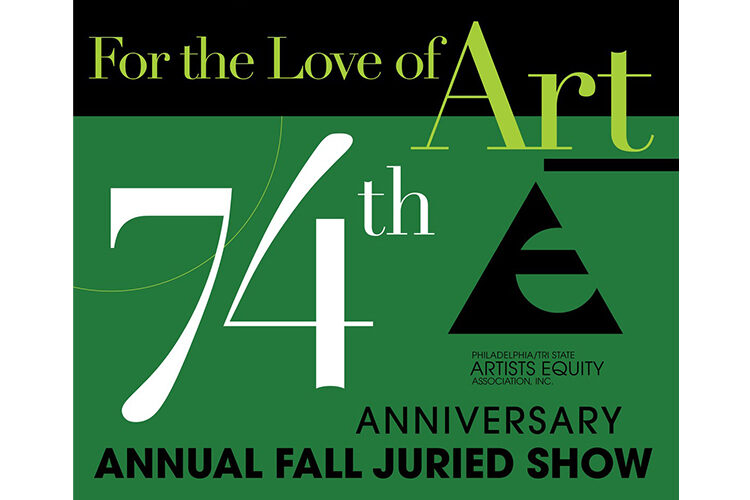 Exhibitions
For the Love of Art - Philadelphia/Tri-State Artists Equity 74th Anniversary Annual Fall Juried Show
October 16 – November 11, 2023
Ethel Sergeant Clark Smith Gallery
Reception & Awards Ceremony, October 25  5-7pm
Wayne Art Center hosts For the Love of Art, Philadelphia/Tri-State Artists Equity Association's 74th Anniversary annual fall juried show in the Ethel Sergeant Clark Smith Gallery in an exhibit that features juried work created by the members of this organization. 
For the Love of Art Juror Tess Wei
Tess Wei holds a B.A. from Swarthmore College and an M.F.A from the Pennsylvania Academy of Fine Arts.  She is a Philadelphia-based artist who is interested in lingering as an act of resistance in our fast, contemporary moment, and explores this through painting, photography, sculpture and video. In prioritizing the blurred and the out-of-focus, her work provides space for contemplation, (day) dreaming and rest.
Philadelphia/Tri-State Artists Equity Association
Artists Equity is a 74 year old arts advocacy organization which began as a national organization and then branched off into regional, independently run arts organizations in the mid-1960s.   Artists Equity Philadelphia/Tri-State seeks to advocate for improved policies toward artists and opportunities for artists to make and show their work. AE works to break the barriers for artists who have been marginalized or underrepresented over the years due to race, ethnicity and gender.  Visit artistsequity.org for more information about the organization and their call for submissions for this juried show.
2023 Artist Equity Artists
Sue Apter
Jean-Marie Baldwin
Sandra Benhaim
John Benigno
Priscilla Bohlen
Ronnie Bookbinder
Meg Boscov
Maureen Bowie
Ann Breinig
Leslie Brill
Ellen Carver
Damini Celebre
Yanming Chen
Jennifer Chernak
Karen Clark-Schock
Virginia Conover
Barbara Dirnbach
Laura Ducceschi
Alice Dustin
Ivy Egger
Lisa Faust
Andrea Finch
Laura   Friesel
Linda Dubin Garfield
Claire Giblin
Barbara Glickman
Susan Goldstein
Gail Gosser
Linnie Greenberg
Deborah Gross Zuchman
Bob Hakun
Colleen Hammond
Barbara Handler
David Hucker
Jane Jacobson
Gigi Janko
Duwenavuesante Johnson
Diane Jordan Bjornstad
Eugene Kayser
Armor Keller
Vera Khodakova
Gloria Klaiman
Joshua Klur
Nancy Larison
Sandi Neiman Lovitz
Barbara Machler
Jim Mackey
Julie Markoff Chapman
Merry May
Jeffrey McCredie
Denise Love McDaid
Linda McNeil
Mark Mellett
Gail Morrison-Hall
Rochelle Myers
Joselyn Ney
Sharon Ostrow
Cheryl  Patton
Jill Pearson
Doris Peltzman
Hal Robinson
John Rodgers
Keith Roeckle
Aina Roman
Barbara Rosin
Cheryl  Schlenker
Matthew Schley
Francine Renée Schneider
Elizabeth Silbaugh
Philip Smith
Peter Smyth
Alan Soffer
Libbie Soffer
Phyllis Steinberg
Candace Stoudt
Theresa Sullivan
Nancy  Tabas
Sandy  Thapsem
Meaghan Troup
Penelope Tsaltas Lisk
Pamela Tudor
Nury Vicens Rosenbusch
Meredith Wakefield
Barbara Wallace
Florence Weisz
Kathleen Wert
Nina Yocom
Erin Zahid