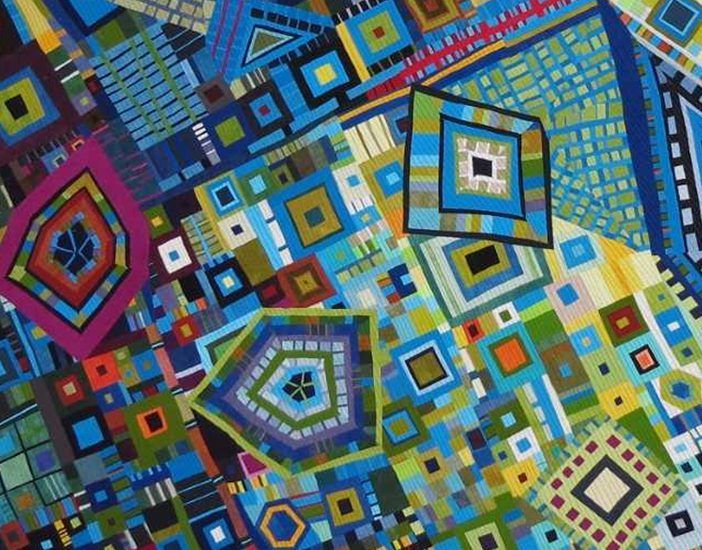 Past Exhibitions
Art Quilt Elements 2018
March 16 – April 28, 2018
Davenport and Ethel Sergeant Clark Smith Galleries
AQE 2018 is the 13th biennial, internationally juried exhibition of contemporary fine quilts at Wayne Art Center in Wayne, PA.
Jurors
Mi-Kyoung Lee, Program Director of Craft & Material Studies, University of the Arts
Marsha Moss, Public Art Curator and Consultant

"One of the distinctions of our show is our professional presentation of art quilts. The exhibition has been widely praised by reviewers and artists not only for exhibiting the quilts in a gallery setting but also for promoting the art quilt as an art form."
AWARDS
Best In Show
Niraga C. Lorenz · Strange Attractor #20
Juror's Award of Merit
Karen Schulz · Juxtaposition 1: Crossing Lines
Wayne Art Center Award
Gerri Spilka · Moving Through
Carolyn Lee Thrasher Vehslage Award
Margaret Black · Curb Appeal V
The Greater Than the Sum Of Its Parts Award
Marianne Burr · Desert Pools
Innovation in Medium Award
Chiaki Dosho · The Crossing Times 13
Leslie Patterson Award for Best Use of Color
Sandra Palmer Ciolino · Precaria #8 Crucible
The Heartstring Quilters Award
Lenore Crawford · Pinecones
Artists
Liz Axford, WA
Gail J. Baar, IL
Teresa Barkley, NJ
Judi H. Bastion, NC
Astrid H. Bennett, IA
Margaret Black, PA
Elizabeth Brandt, MI
Karen A. Brown, MD
Marianne Burr, WA
Betty Busby, NM
Kay Campbell, MD
Erika Carter, WA
Sandra Palmer Ciolino, OH
Linda Colsh, MD
Lenore H. Crawfod, MI
Chiaki Dosho, Japan
Kate Garman, PA
Kay Healy, PA
Ana Lisa Hedstrom, CA
Rosemary Hoffenberg, MA
Patricia Kennedy-Zafred, PA
Jill Kerttula, VA
Pat Kroth, WI
Susan Lenz, SC
Viviana Lombrozo, CA
Aryana B. Londir, AZ
Niraga C. Lorenz, OR
Ruth Marchese, NY
Valerie Maser-Flanagan, MA
Sherri Lipman McCauley, TX
Diane Melms, AK
Katy K. Nygard, MT
Dan Olfe, CA
Marti Plager, KY
Heather Pregger, TX
Kathleen Probst, ID
Denise L. Roberts, WV
Lauren Rosenblum, NY
Diane Savona, NJ
Karen Schulz, MD
Bonnie J. Smith, CA
Catherine W. Smith, CT
Karen S. Spencer, OR
Gerri Spilka, PA
Andrew Steinbrecher, OH
Elena Stokes, NJ
Marianne R. Williamson, FL
Hope Wilmarth, TX
Calendar of Events
March 16
Friday, 12:00 – 4:00 pm
Fiber Bombing Installation
March 16 – April 28
Exhibition Dates
March 17
Saturday, 5:00 – 7:00 pm
Opening Reception
March 17
Saturday, 5:00 – 6:00 pm
Meet the Artists
Wednesdays during Exhibition
12:30 pm
Gallery Tours
April 14
Saturday, 11:00 am – 12:00 pm
Family Workshop: Paper Quilted Animals (ages 5+)
April 14
Saturday, 1:00 – 2:00 pm
Family Workshop: Quilted Fabric Postcards (ages 8+)
Image: Naraja C. Lorenz, Strange Attractor #20