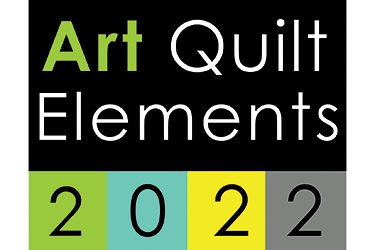 Past Exhibitions
AQE 2022 Exhibition
15th International Juried Exhibition of Contemporary Fine Art Quilts
March 27 – April 30, 2022
Davenport Gallery
Wayne Art Center, Davenport and Ethel Sergeant Clark Smith Galleries
Jurors: Jane Milosch, Paula Nadelstern and Jason Pollen
Visit Wayne Art Center through April 30th to experience the artwork in Art Quilt Elements 2022, an international juried exhibition of contemporary fine art quilts. Over fifty stunning works are on view in WAC's Davenport, Ethel Sergeant Clark Smith and Vidinghoff Lobby Galleries. AQE 2022 includes work created by artists from twenty-two US states, Australia and Canada.
For more information about AQE2022 visit: www.artquiltelements.org.
View Art Quilt Elements 2022 Online Exhibition
Copies of our beautiful Art Quilt Elements 2022 print catalog are available for purchase at WAC and online.  Books are available for purchase for $25 plus tax. 
Purchase Art Quilt Elements 2022 Print Catalog
Visit Main Line Television's Video Presentation of AQE's March 27th Gallery Talk online:
View the AQE 2022 Meet The Artists Video
Register for a Guided Tour of AQE 2022
ABOUT THE JURORS
Jane Milosch is an internationally recognized curator and expert in 20th-century and contemporary art, craft, and design. As the founding director of the Provenance Research Initiative at the Smithsonian Institution, Washington, D.C., she advised on WWII-era provenance research, cultural heritage projects, and international museum training programs and institutional partnerships. Previously she served as Senior Program Officer for Art in the Office of the Under Secretary for History, Art and Culture, leading pan-Institutional art programs and new interdisciplinary initiatives, as well as strategic planning efforts with the Smithsonian's eight art museums. Before joining the Smithsonian's senior leadership team, Milosch was chief curator at the Renwick Gallery, Smithsonian American Art Museum. Her other curatorial positions include the Cedar Rapids Museum of Art, Figge Art Museum, and the Detroit Institute of Arts, Department of Modern and Contemporary Art and Design. Milosch studied ceramics and art history in both the US and in Munich, Germany, where she also worked as a managing editor for Prestel Art books. A graduate of the Getty Leadership Institute for Museum Professionals, she lectures and publishes widely on provenance research, contemporary art and craft. Milosch is currently Visiting Professorial Fellow in Provenance and Curatorial Studies, School of Culture and Creative Arts, University of Glasgow. 
Paula Nadelstern has achieved international recognition for her innovative and complex designs inspired by the bilateral symmetry of kaleidoscopic images. Honored by inclusion in the Twentieth Century's 100 Best American Quilts, her designs were showcased in the American Folk Art Museum's first one person exhibition highlighting the work of a contemporary quilt artist (2009). In addition to her numerous awards, she  was a recipient of fellowships from the New York Foundation for the Arts and The Bronx Council on the Arts. Paula is the author of Fabricadabra: Simple Quilts, Complex Fabric, Paula Nadelstern's Kaleidoscope Quilts: An Artist's Journey Continues; Kaleidoscope Quilts: The Workbook; Puzzle Quilts: Simple Blocks, Complex Fabric; Kaleidoscopes & Quilts; Snowflakes & Quilts and Fantastical Designs (a coloring book with selections from her over twenty fabric collections designed exclusively for Benartex, Inc.). She lives in the Bronx, NYC with her husband, Eric.
Jason Pollen received his graduate and undergraduate degrees from the City University of New York. He is an internationally acclaimed artist, designer and educator. He served on the faculties of the Royal College of Art in London, Parsons School of Design and Pratt Institute in New York City, and as Professor and Chair of the Fiber Department at the Kansas City Art Institute. He has had numerous solo and group shows in the United States, Europe and Asia. He has designed textiles for dozens of major fashion and home furnishing firms. Pollen collaborated as scenic designer for the Kansas City Ballet. He is Professor emeritus of the Kansas City Art Institute, President emeritus of the Surface Design Association, and an American Craft Council Fellow. The Penland School of Crafts in North Carolina honored him with the Outstanding Artist/Educator award in 2012. 
Opening Reception
Sunday, March 27, 2022,  3-5:00 pm
Exhibition Dates
Sunday, March 27, 2020 – Saturday, April 30, 2022
Monday–Friday 10:00 am - 5:00 pm, Saturday 10:00 am – 4:00 pm
Closed on Sundays and Holidays
AQE 2022 Artists
Agusta Agustsson, MA
Linda Anderson, CA
Jill Ault, MI
Bobbi Baugh, FL
Deb Berkebile, OH
Margaret Black, PA
Donna Blalock, VA
Bonnie Bucknam, WA
Betty Busby, NM
Susan Byrnes, NY
Libby Cerullo, PA
Shin-hee Chin, KS
Linda Colsh, MD
Sue de Vanny, Australia
Rachael Dorr, NY
Lisa Ellis, VA
Petra Fallaux, PA
Dianne Firth, Australia
Diana Fox, CO
Debbie Grifka, MI
Cindy Grisdela, VA
Michele Hardy, CO
Carolyn Harper, PA
Barbara Oliver Hartman, TX
Chriss Johns, IL
Jill Kerttula, VA
Judy Kirpich, DE
Pat Kroth, WI
Carol Krueger, CO
Susan Lapham, VA
Theodore A. Maringer, OH
Valerie Maser-Flanagan, MA
Carol Miraben, NM
Clara Nartey, CT
Kathy Nida, CA
Colin Pezzano, PA
Wen Redmond, NH
Denise L. Roberts, WV
Irene Roderick, TX
Lisa Flowers Ross, ID
Michael Ross, PA
Sandra Sider, NY
Bonnie J. Smith, CA
Catherine Whall Smith, CT
Jan Soules, CA
Kelly Spell, TN
Mary Ann Tipple, OH
Kit Vincent, Canada
Shari Werner, NY
Victoria Findlay Wolfe, NY
To arrange for a docent tour of this exhibition for your group, please contact WAC at info@wayneart.org.