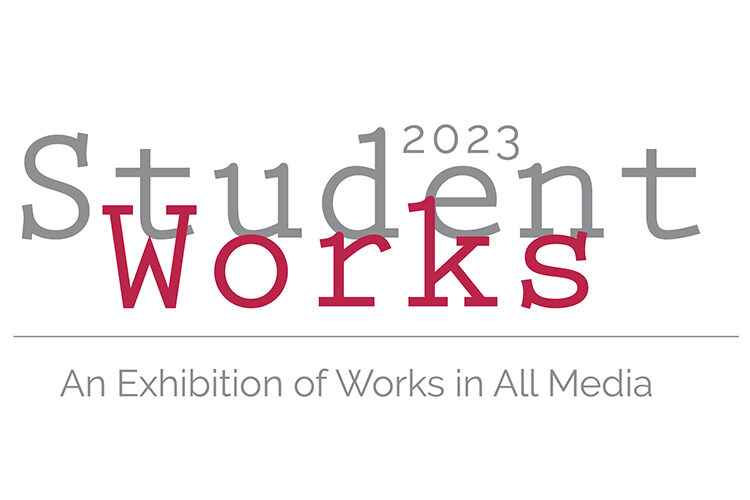 Exhibitions
2023 Student Works
July 17 – August 18, 2023
Entry Deadline: July 7 · Entry Information
Davenport Gallery
On-line submissions from eligible WAC adult students will be accepted from June 7-July 7.
The Wayne Art Center Student Works 2023 exhibition features artwork created by WAC students 18+ who enrolled in a class or workshop at WAC during the 2022-23 academic year. Works included are painting, drawing, sculpture, ceramics, stained glass, fiber, jewelry, photography, works on paper and mixed media.
CALL FOR ENTRY Student Works 2023
Student Works 2023 Juror of Awards: Maggie Hobson-Baker
Maggie Hobson-Baker is a Philadelphia-area based artist, designer and teacher. She holds an MFA from Goddard College in Vermont as well as an MA from the University of the Arts in Philadelphia. Maggie teaches art and design at Rosemont College and works as a Visual Designer in industry.  She is interested in the dialogue that takes place between the classroom and industry.  At Rosemont College she has built the Digital and Interactive Design portion of the BA and BFA in Studio Art. In industry, Maggie has been working at Stride Inc. where she spends her time building and designing interactive web components, creating icons, patterns and digital illustration projects. 
Exhibition Calendar
June 7-July 7 Online registration period with EntryThingy
July 10 10am-5pm Artwork Delivery to WAC
July 17- August 18 Student Works 2023 Exhibition
July 30 3-5pm Reception & Awards Ceremony
August 21 10am-5pm Artwork Pick-up
WAYNE ART CENTER STUDENT WORKS ELIGIBILITY
Wayne Art Center Student Works 2023 is open to all adult students enrolled in a class or workshop at WAC during the 2022-23 academic year. Students attending one class/workshop are invited to exhibit one work. Students who were enrolled in multiple programs are invited to exhibit up to two works completed at WAC during the last academic year.
CONDITIONS
2-D work must be framed and securely wired for hanging. If a work on canvas is intended to be presented without a frame, sides should be clean or painted.
3-D work should be stable enough to sit securely on a pedestal or come with a base that provides stability.
WAC reserves the right to reject entries that do not meet the requirements.
No work may be withdrawn before the close of exhibition
MEDIA Painting, drawing, sculpture, ceramics, stained glass, fiber, jewelry, photography, works on paper and mixed media.
REGISTRATION AND FEES
Students should register artwork online at https://www.wayneart.org/call-for-entries-form/ between June 7-July 7th in advance of artwork delivery day. The cost to enter is $15 per piece. Qualifying students may enter up to two works ($30). All eligible artwork will be included in this exhibition. This show is juried only for awards. New EntryThingy applicants will be instructed to create an account. Applicants who have previously used EntryThingy should log-in to their account and record all TITLE/MEDIUM/SIZE/PRICE info for their artwork. Image upload is optional.
Sale of artwork is highly encouraged. In the event of a sale, Wayne Art Center retains a 40% commission. Artists receive 60%
of the retail price within 30 days of the exhibition closing. Students are responsible for setting prices for their work, and once
declared, prices may not be altered. Works may be marked "Not For Sale." A retail value for a not-for-sale work must be
provided in online entries for insurance purposes.
DELIVERY AND PICK-UP OF ARTWORK
All artwork must be hand-delivered to Wayne Art Center Monday, July 10 between 10am–5pm. Upon drop-off, labels created by WAC with information from your EntryThingy registration will be matched to your work. All artwork must remain on display throughout the duration of the exhibition. No early pick-ups are permitted.
Artwork must be picked up Monday, August 21 between 10am–5pm.
INSURANCE
All work will be insured from July 10 through August 21, 2023 for 60% of the posted sale price. Students who exhibit work as "Not For Sale" must provide a value to be used for insurance purposes. No work will be insured after September 1, 2023.
OPENING RECEPTION & AWARDS
Student Works 2023 Reception & Awards Ceremony will be held Sunday, July 30 from 3-5pm. Maggie Hobson-Baker - Philadelphia area artist, designer and teacher serves as Juror of Awards. Maggie is an Associate Professor of Studio Art at Rosemont College. Wayne Art Center STUDENT WORKS 2023 remains on exhibition through Friday, August 18. Entry constitutes agreement to all conditions in the prospectus. Wayne Art Center reserves the right to use digital images of artwork on exhibition for promotional purposes. Wayne Art Center is not responsible for artwork that has not been claimed by September 1, 2023..