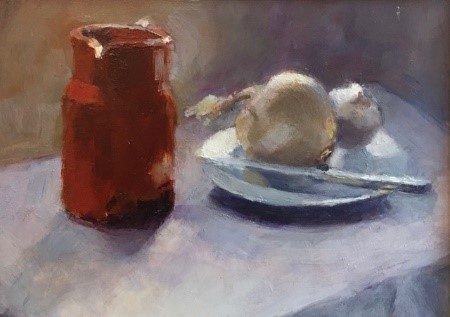 Past Exhibitions
Three Painters, Three Perspectives
Landscapes, Figures & Still Life
February 19 – March 16, 2019
Ethel Sergeant Clark Smith Gallery
Opening Reception: Sunday, February 24, 3-5pm
Wayne Art Center welcomes work from three accomplished local artists and long-time students/supporters of the Center.
Mary Graham
 Ms. Graham uses pastel and oil to paint the figure, still life, and landscapes. Something in the ordinary attracts her and stimulates her desire to paint, and she strives to capture its essence. Ms. Graham's work can be found in collections throughout Pennsylvania, Maryland, Wyoming, New York, and Massachusetts. Mary Graham earned a BA in Art from Rosemont College, and in recent years has taken courses at Washington University in St. Louis, the Pennsylvania Academy of the Fine Arts, and at the Wayne Art Center (since 2010). 
Julie Spahr
Julie Spahr prefers the inspiration of painting "en plein aire" whenever possible. She is a colorist, energized to paint what she sees, in a realistic, but impressionistic style. Her deep connection with the natural world, in the past and through her art, has led to her immersion in landscape painting.  She is continually sharpening her awareness and "seeing" at new levels, striving to portray the light forms and magic before her in her paintings.
Ms. Spahr's subject matter is inspired primarily from the rolling Pennsylvania countryside and the rocky Maine coastline.  She also loves to paint on her travels, especially in Provence and areas surrounding Florence, Italy. She has studied at the Florence Academy of Art in Florence, Italy, The Pennsylvania Academy of Fine Arts and at Wayne Art Center (since 2012), and participated in numerous workshop venues in Massachusetts, New Mexico and France. Ms. Spahr has been featured in 19 exhibitions in Maine and Pennsylvania since 2007.
Leonard Randolph
Upon retirement Leonard Randolph was looking to find something as personally fulfilling as the work in his professional career had been. Mr. Randolph started taking drawing classes at Wayne Art Center in 2002 and hasn't stopped. He says, "Art successes have given [him] great satisfaction and led to [his] branching out into oil painting and sculpture." Now in his 17th year at Wayne Art Center, Mr. Randolph takes three to four courses each week and he enjoys great pleasure from his work.