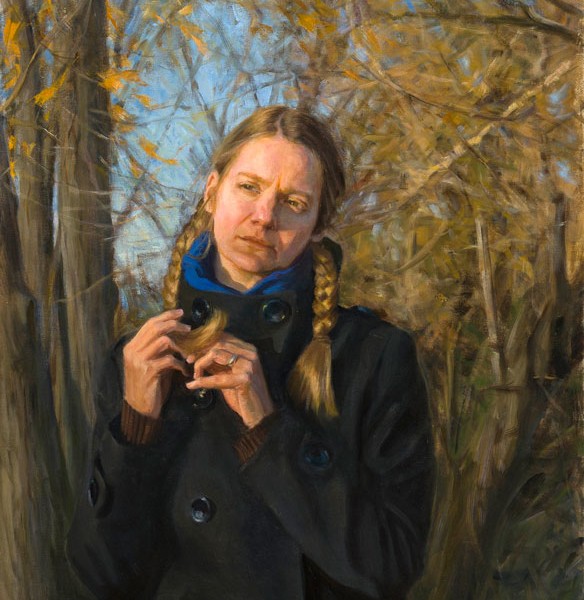 Past Exhibitions
Portraiture: A Philadelphia Tradition
October 24 – November 16, 2007
Ethel Sergeant Clark Smith Gallery
Many great American portrait artists have called Philadelphia home, including Mary Cassatt, Ceclia Beaux, John Singer Sargent, Charles Willson Peale and Andrew Wyeth.   Portraiture: A Philadelphia Tradition opens October 24 at the Wayne Art Center and continues to pay testament to Philadelphia's significance in the tradition of portraiture and its importance as an art form.
Christine Egnoski, Executive Director of the Portrait Society of America, believes that portraiture is one of the most important branches of fine art not only for its own sake, but for its historical significance to mankind.  "It is a unique calling and a great privilege to be commissioned to paint a portrait for posterity," said Egnoski who is currently planning the next Portrait Society conference in Philadelphia.  "Serious reflection about a world without paintings of its inhabitants will make anyone realize that portrait art in not a luxury but a necessity."
Portraiture will feature the works of nationally and internationally renowned artists including Rachel Constantine, Addie Cooper, Ellen Cooper, John Ennis, Jennifer Frudakis, Bill Hanson, Glenn Harrington, Gerth Herrick, Nancy Bea Miller, Ernie Norcia, Catherine Prescott, Jimm Scannell and Alexandra Tyng.
Portraiture: A Philadelphia Tradition is a free exhibit and runs through November 16.  An opening reception on October 28, 2007, will be held from 3:00 – 5:00 p.m. with a Group Portrait Demonstration on November 1 at 7:00 p.m.  An Artist's Talk is scheduled for November 8, at 12:30 p.m. 
Image: Alexandra Tyng