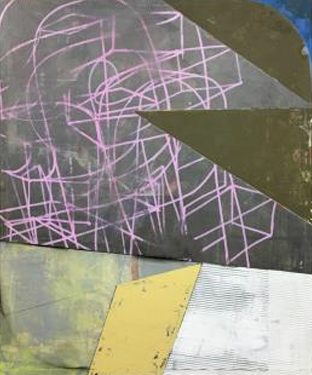 Past Exhibitions
Geometry in Color
December 8, 2018 – January 26, 2019
Vidinghoff Gallery
Geometry in Color
The warmth of color in large scale geometric imagery will adorn the walls of the Vidinghoff Lobby from December 7 through January 26 during the 2018 Craft Forms exhibition. Four artists from the Philadelphia region will feature their contemporary paintings representing the vibrant community of artists exploring the directness of pure design.
Wayne Art Center presents Geometry in Color, a dozen large scale geometric abstract paintings by artists in or near the Philadelphia region. Experience crisp bursts of color sometimes soothing and other times pulsing in this array of contemporary work that makes a solid statement in any setting.
Artists
Paul Fabozzi 
Paul Fabozzi received his BFA from Alfred University in 1989 and his MFA from the University of Pennsylvania in 1993. Additional studies include SUNY Buffalo in Siena, Italy and The University of Georgia at Athens in Cortona, Italy. His paintings and works on paper have been included in numerous solo and group shows throughout the United States and Europe, including exhibitions in New York, Philadelphia, Los Angeles, San Francisco, Rome, London, and Busan. His work is included in numerous private and public collections, including the, the New York Public Library, the San Diego Museum of Art, the Samuel Dorsky Museum of Art, the Munson Williams Art Institute and the Frost Museum of Art. Awards include a 2005 fellowship in Printmaking/Drawing/Artists Books from the New York Foundation for the Arts. He edited an anthology of writings on contemporary art—titled Artists, Critics, Context: Readings in and around American Art Since 1945—published by Prentice-Hall in 2002 and is currently Professor of Fine Arts at St. John's University in New York City.
Karen Freedman
Karen Freedman is a Pennsylvania artist recognized for her  vibrant abstract geometric paintings that explore the interaction of color and its ability to alter perception. She began her formal training studying jewelry design at The University of the Arts in Philadelphia. Ms. Freedman then went on to build a successful graphic design business followed by her immersion in the fine arts. 
Ms. Freedman has exhibited both locally and nationally at venues that include Endicott College, Hunterdon Art Museum, the Cape Cod Museum of Art, The Gallery at Penn State Great Valley, The State Museum of Pennsylvania, Art Center Sarasota, Kimball Art Center, Castle Gallery at the College of New Rochelle, Prairie State College, and the George Segal Gallery, Montclair State University. Her work is featured in the books Encaustic Art in the Twenty-First Century by Anne Lee and E. Ashley Rooney, Encaustic With a Textile Sensibility by Daniella Woolf, and Encaustic Art (Art of the Century) by Jennifer Margell, as well as numerous exhibition catalogs. Ms. Freedman's work also appears in Studio Visit Magazine, Volume 23 as well as the DVD, In the Encaustic Studio, Advanced Mixed Media Techniques by Michelle Belto.

Ms. Freedman was a presenter at the Ninth International Encaustic Conference. She has twice been the recipient of the conference's Juror's Award, a distinction held by only one other artist in the nine-year history of the Encaustic Conference.
Karen Freedman is a full-time practicing artist who lives and works in North Wales, PA.
Artist Statement
No matter how many alternate paths my work takes I always seem to return to order and repetition. These twin elements found in the patterns that surround us are with me as an underlying touchstone of inspiration.
I take this concept of order and repetition and introduce a semblance of disarray without ever really abandoning the grid-like structure. I look to challenge the predictability inherent in patterns through my seemingly arbitrary use of colors that are chosen and arranged to give structure and movement to the pattern as well as alter the viewer's perception through the interaction of color.
Stephen Haigh
 Stephen Haigh is a Philadelphia born artist whose paintings pull from the textures, personalities and stories gathered by urban design and weathered walls of the surrounding cityscape. Stephen has long been attracted to the rusted, decayed and worn surfaces that wear the marks of life. The stories they collect and the personalities they share are authentic. The walls, he believes are the diaries of the city.
While studying design in this early years at college, Stephen explored different ways of using script and text in his work, while maintaining an interest in traditional mediums of collage and assemblage. He started exploring these mediums more and started painting as a departure from the intensive computer work that comes with studying graphic arts. The idea to combine the formal and geometric aspects with the raw emotion and energy in painting and graffiti started to take shape. Layering with discarded print items brought an elated feeling that better expressed his interest.
Stephen Haigh's current work explores the seemingly chaotic nature of these occurrences while trying to contain, mask and organize its energy.
" I seek to navigate movement and gesture of the written word within a landscape of complexities and shifting geometric shapes, each vying for their place. Like the moving city around me my pieces move along in similar stride, collecting and sharing layers of a story, while somehow finding comfort in the elevated uncertainty of where and how it ends."
Stephen now lives in Bala Cynwyd with his wife, son, dog and cat. He works as a cement mason while painting and illustrating out of his studio in Merchantville, New Jersey.
Cathleen Hughes
Cathleen Hughes has created 150 murals across the city for the Mural Arts Program over the last 20+ years. Her abstract paintings have been exhibited internationally and belong to numerous private and corporate collections. The various shapes, colors, and repeating pattern of Cathleen Hughes' works naturally coalesce on their large scales, echoing the harmony she wishes to bring to society through her work. . She developed her concept and aesthetic through both intuition and developed formulas that speak to her interest in space, time, and matter.  Her canvases can be found internationally, in both private and corporate collections.
A Philadelphia native and a graduate of the Pennsylvania Academy of the Fine Arts, she now resides in Fishtown.  Hughes' works illustrate her pursuit of educating and promoting peace through art.