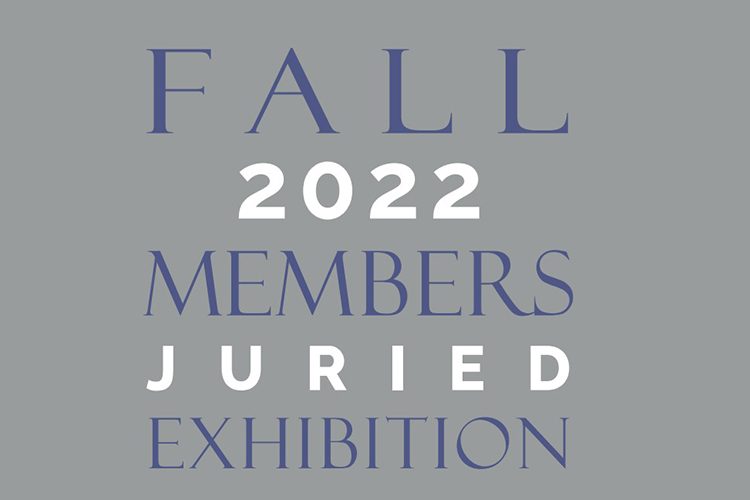 Past Exhibitions
Fall Members Juried Exhibition
October 16 – November 12, 2022
Ethel Sergeant Clark Smith Gallery
Wayne Art Center's Fall 2022 Members Juried Exhibition showcases the talent within our membership with works in painting, drawing, pastel, photography, mixed media, ceramics, and sculpture.
Reception & Awards: Thursday, October 20,  5-7pm
Michael Gallagher serves as Fall Members Juried Exhibition Juror of Selection & Awards
Michael Gallagher is a painter whose work moves freely between abstraction and representation. A Philadelphia-native, Gallagher spent his formative years studying at the venerated Pennsylvania Academy of the Fine Arts (PAFA), which is well known for alumni and pedagogy dedicated to the practice of observational painting traditions. Throughout the 1980s, Gallagher adhered to many classical oil painting techniques while experimenting with a blending of shapes and imagery. This approach has been the theme of his work for nearly forty years. Gallagher is the recipient of five Excellence in Teaching Awards from the Pennsylvania Academy of the Fine Arts where he has taught painting and drawing for several decades. After numerous successful solo and group exhibitions in the region, Michael Gallagher is now represented by Gross McCleaf Gallery. 
His works are in a number of public and corporate collections including Aronson and Partners, Philadelphia Pa, Delotte and Touche, New York, NY, PepsiCo, New York, NY, MasterCard, New York, NY, the Wilmington Trust, Time Warner, Legg Mason, The Franklin Mint, the Pennsylvania Academy of the Fine Arts and the Woodmere Museum of Art.
2022 Fall Members Juried Exhibition List of Participating Artists
Annette Alessi
Ian Andrew
Aeran Atlas
Lori Banks
Sarah Benton
Diane Bjornstad
Ronnie Bookbinder
Sivia Braunstein
Nancy Brenner
Kit Burns
Wendy Prather Burwell
Ellen Carver
Louise Clooney
Jim Conner
Connie Cooper
Karen Cotler
Debbie Craley
Rene Crystal
Elizabeth Jenkins Culp
Susan Curreri
Richard Daddario
Jane deGruchy
Barbara Dirnbach
Laura Ducceschi
Suzanne DuPlantis
Jon Dwyer
Diane Edbril
Andrea Fairservice
Bruce Finkle
Gail Fox
Melissa Frederick
Mo Gerngross
Barbara Glickman
Nancy Gordon
Mary Graham

Gerald Green
Betz Green
Jim Green
Bob Hakun
Ona Hamilton
Barbara Handler
Diane Herring
Janice Hoffman
Silva Hovhannesian
Melissa Husted-Sherman
Ethel Jackson
Judith McCabe Jarvis
Carol Koemeter-Cox
Lidia Kohutiak
Maria Kurtzman
Diane Lavelle
Martha Lawlor
Ann Lax-Antrim
Adam Levin
Arnold Levinson
John Lloyd
Thomas M. Miles
Barbara Machler
Carol Magner
Laura Marconi
Charles Martin
Sunita Mathur
Nancy McGivney
Catherine McIlhenny
Deanna McLaughlin
Janet Moyer
Kathleen Murphey
Cynthia Murray
Sandi Murtland
Susan Nangle

Daria Nawrocki
Ruth Parker
Jill Pearson
Doris Peltzman
Johanna Petropoulos
Katrina Piechnik
Aurora Polletta-Green
Pete Prown
Heather Block Reilly
John Rodgers
Maxine Rosen
Elynne Rosenfeld
Kathryn Ryan
Jane Schultz
Stefanie Silverman
Dirk Simpson
Vikki Sloviter
Philip Smith
Genevieve Snyder
Ardyth Sobyak
Julie Spahr
Suzanne Spain
William Sweeney
Tom Swirsky-Sacchetti
Christopher Swisher
Heidi Techner
Blanche Levitt Torphy
Kerstin Tyreus
Martha Vazquez
Bob Voynow
Laila Wah
Scott Woyak
Nina Yocom