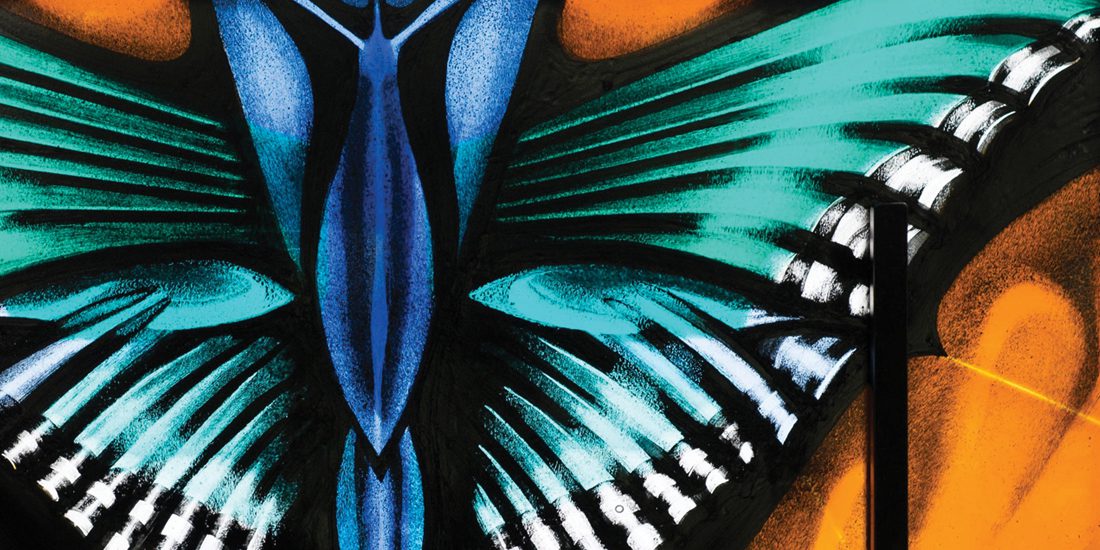 Past Exhibitions
Craft Forms 2017
23rd International Juried Exhibition of Contemporary Fine Craft
December 9, 2017 – January 27, 2018
Davenport Gallery
The 23rd international juried exhibition is dedicated to enhancing the public's awareness of contemporary craft while providing a venue for established and emerging artists alike to share their functional and sculptural creative endeavors.
AWARDS
Best In Show
Mallory Weston ·Skin Shed
Juror's Award
Robly A. Glover ·  Stop
Carrie Gustafson Santiago · Stingray Mbola
Andrew Hayes · Strand
Adriane Dalton · Pectoral Cross of the Circular Economy
Sheryl Zacharia · Triangular Conversation
Aleksandra Vali · Anatomy of Time (brooch)
Awards of Merit
Danny Kamerath · Box Elder
Lucrezia B. Bieler · Hummingbird 
Bethany L. Wood · (Don't) Let Go
Emily Reason · Farmer's Friend
Mo Kelman · Smoke Ring
Peeta Tinay · Roped Handle Basket with Low Curve Red and Black
Honorable Mentions
Steven M. Dolbin · Reliquary
John Gargano · Ashetu Mind
Rob Sigafoos · Planting Time
Gerri Spilka · Flow Interrupted 
Ovidio C. Giberga · Run Rabbit Run
Juror - Nora Atkinson
The Lloyd Herman Curator of Craft, Renwick Gallery, Smithsonian American Art Museum
Wayne Art Center is pleased to welcome Nora Atkinson, The Lloyd Herman Curator of Craft, Renwick Gallery Smithsonian American Art Museum, as the juror for the Craft Forms 2017 exhibition.
Atkinson was previously the curator of the Bellevue Arts Museum in Bellevue, Washington (2006-2014) where her curatorial work focused on art, craft and design. Presently at the Smithsonian, Atkinson was part of the team responsible for the recent renovation of the Renwick Gallery, the museum's branch for contemporary craft and decorative art. She was the curatorial lead for the 2016 reinstallation of the contemporary craft permanent collection galleries and for the exhibition "Visions and Revisions: The 2016 Renwick Invitational."
She is the author of Craft for a Modern World: The Renwick Gallery Collection (2015) and a co-author of the exhibition catalog accompanying "Visions and Revisions" (2016). Her research interests include contemporary craft and design and the role of the handmade in modern culture. Atkins's current projects include a site-specific installation by Rick Araluce; the exhibition "Murder Is Her Hobby: Frances Glessner Lee and the Nutshell Studies of Unexplained Death," opening October 20, 2017; and a major exhibition about the Burning Man Festival that is scheduled to open in 2018. She earned a bachelor's degree (2002) and a master's degree (2006) from the University of Washington, Seattle.
Atkinson will judge the work based on its technique, design, concept, originality and craftsmanship.
Calendar of Events
December 8, 2017
Craft Forms 2017 Preview Party
December 9, 2017
Juror's Lecture and Meet the Artists
December 9, 2017 - January 27, 2018
Craft Forms 2017 open to the public

January 10, 2018
Collector's Tour
Christopher Reis Glass Raffle Drawing
January 18, 2018
Patron Dinner and Wine Pairing
January 25, 2018
Emily Bell presents The Art of Eating by M.F.K. Fischer
Image: Seeger, Queen Butterfly, Glass