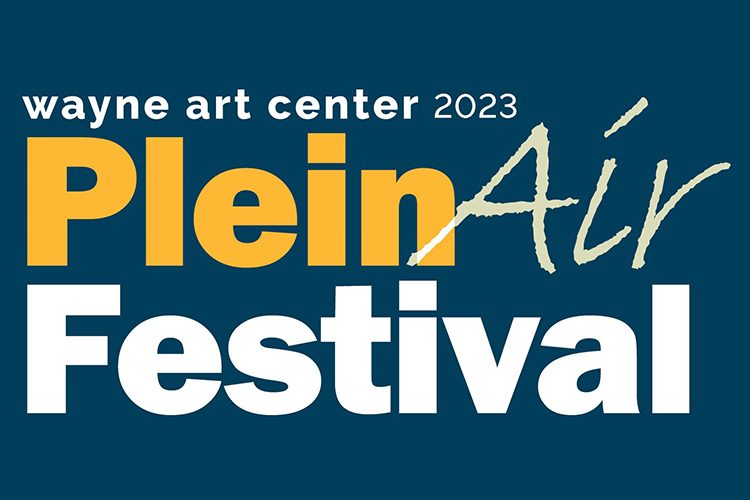 Past Exhibitions
15th Annual Wayne Art Center Plein Air Festival
May 13 – June 24, 2023
Davenport Gallery, Ethel Sergeant Clark Smith Gallery, Vidinghoff Gallery
The 15th Annual Wayne Art Center Plein Air Festival kicks off on May 7, 2023 with the arrival of 32 juried, nationally recognized and emerging artists who have come to Wayne, Pennsylvania to capture the cool atmosphere and ephemeral, lush greens of spring in the Delaware Valley. As one of the premier plein air events in the country, Wayne offers the unique opportunity to showcase work created during the festival in spacious, light-filled and state-of-the-art galleries during an exhibition that hangs until June 24, 2023. The galleries at Wayne Art Center are enjoyed by more than 30,000 visitors each year and sales during the Wayne Plein Air Exhibition remain steady throughout the six weeks.
View the 2023 plein air online gallery and explore paintings created during the 15th Annual Plein Air Festival.
Plein Air 2023 video by Main Line Television
Participants
For artists who previously have participated in Wayne Art Center Plein Air, the festival offers an opportunity to reconnect with old friends and collectors and to compete for top cash awards totaling $20,000. For emerging artists, acceptance in Wayne Art Center's Plein Air Festival represents an important step in achieving national recognition. As one of the first plein air festivals in the country, WAC Plein Air has attracted some of the best outdoor painters working in the field and has served an instrumental role in supporting the vibrant contemporary landscape painting movement.
Hospitality
Participating artists who are visiting the area are housed by local residents and Wayne Art Center Plein Air Festival committee members whenever possible.  Artists are invited to a welcome breakfast to begin the festival week on Sunday, May 7.
Locations
Throughout the week, painters work on locations in the surrounding areas, a locale robust with colorful and varied landscapes. From quaint small towns filled with period architecture to rolling hills dotted with livestock, to the dynamic skyline views of Center City Philadelphia and its surrounding waterfronts, including the Delaware and Schuylkill rivers, there is no lack of inspiration or subject matter. A guide to area locations is provided. A week of intense work culminates in an entirely fresh exhibition of more than 300 paintings.
Plein Air Festival Exhibition Preview Party and Awards Ceremony 
The exhibit opens with a Gala Preview Party where awards will be presented by Juror of Awards, Shana Kunz of Utah.
The Jurors:
Bryan Mark Taylor of Utah, Juror of Selection
A painter, lecturer, entrepreneur, and world traveler Bryan Mark Taylor is a renaissance man. As a painter, Bryan has won top awards in national and international shows, including 2nd place in the 2018 ARC Salon and exhibits in museums worldwide. In addition, he makes regular contributions to art and design magazines including Plein Air and Imagine FX. 
Bryan is a Signature Member of Plein Air Painters of America and has had many successful one-person shows and won a gold medal at the California Art Club's annual show. Galleries in New York, California, and Utah currently represent Bryan. In addition, you can find his artwork in private, corporate, and museum collections around the world, including in the US, Europe, and China. 
Bryan is a sought-after teacher and lecturer and has taught courses worldwide, including at the Academy of Art University, Pixar, and the Scottsdale Artists School. In addition, Bryan has been a featured speaker at the Plein Air, CTNX, Fantastic Arts, Dragonsteel, and VisionX conferences.   As a product designer, Bryan has developed a premier outdoor painting system called the STRADA Easel, used by Plein Air artists worldwide. 
Bryan has traveled around the globe, carefully observing and capturing nature's miracles. He was born in Portland, Oregon. He received his BA from Brigham Young University in 2001 and MFA from the Academy of Art University in 2005. He currently lives with his wife and four children in Utah, USA. 
Shanna Kunz of Utah, Juror of Awards
Shanna Kunz of Ogden, UT is a naturalist painter of the landscape that surrounds her, interpreting the quiet and familiar places of the American West. Her work has been featured in numerous major art publications, including a feature article in Art of the West, Western Art & Architecture, Plein Air Magazine, Outdoor Painter, Southwest Art Magazine, Western Art Collector and Fine Art Connoisseur. 
She won 2019 Best In Show For Body Of Work in The Hockaday Museum Invitational, The Coors Show - 2014, Maynard Dixon Camp Out 2015 - 2018, C.M. Russell Auction 2015, Rocky Mountain Plein Air Painters Best of Show 2016, member 2017-2019, American Impressionist Society Exhibition 2016 - 2012, exhibiting at The Salmagundi Club, NYC, Maynard Dixon Country 2010, 2018, the Jackson Wildlife Museum Western Visions Miniature Show, the Contemporary Art of the American West Invitational, The Western Masters Art Show, and was chosen for the Fine Art Connoisseur Award at the Artist of the New Century Exhibit, Bennington Center for the Arts. 
Shanna is a signature member of American Impressionist Society and a member of Oil Painters of America, as well as The California Art Club Out of State Member. Shanna has been invited to exhibit at Catalina Island Conservatory Wild Side Show, 2021 and 2022 and has been a guest on The Artful Painter Podcast. 
She owns and operates an online art school Inspired To Paint. Shana exhibits at these fine art galleries across the United States: Mockingbird Gallery, Bend, OR Montgomery Lee Fine Art, Park City, UT Turner Fine Art, Jackson, WY Kneeland Gallery, Ketchum, ID Illume Gallery, St. George, UT A. Banks Fine Art, Bozeman, MT