WAC Faculty & Artist: Vlad Yeliseyev
Farm with Cows
Watercolor
21″ X 26″
$2,200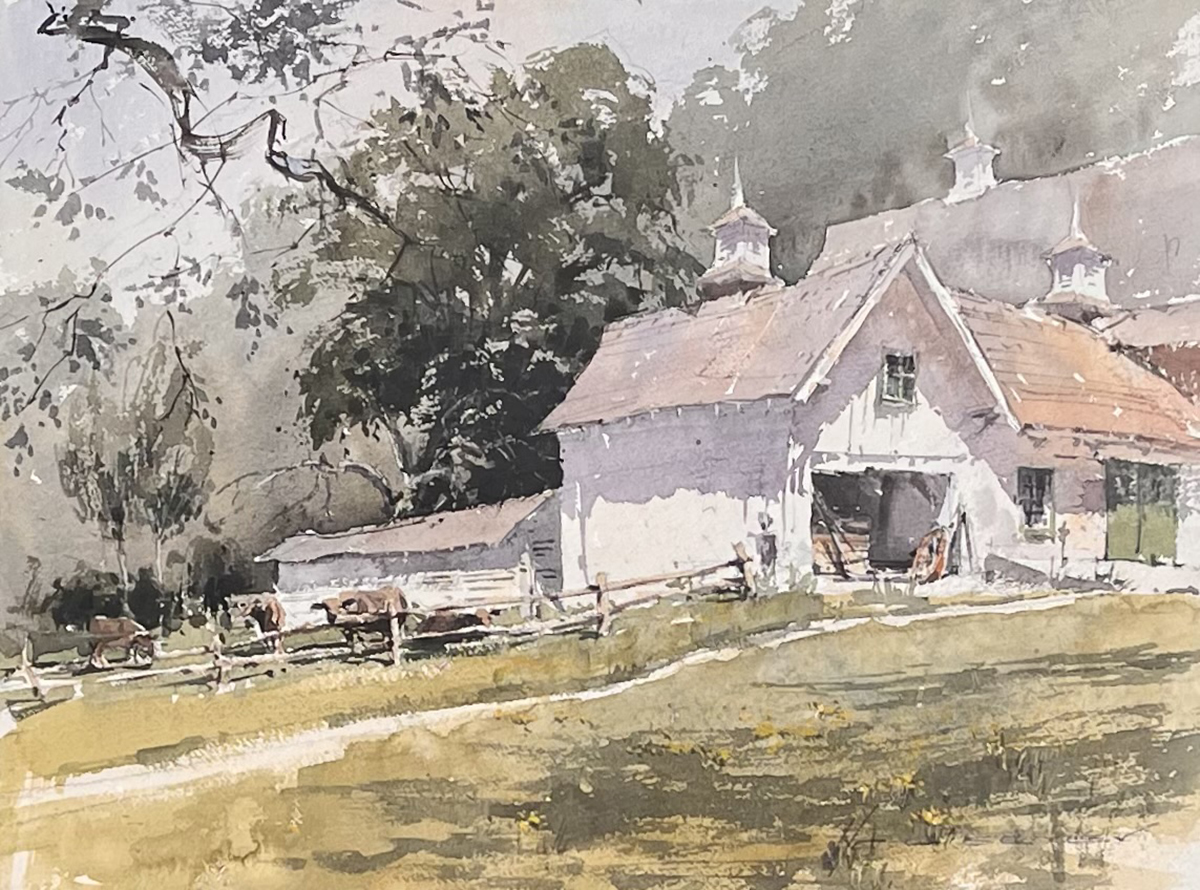 "Vlad Yeliseyev is no stranger to beautiful scenery. In fact, he's traveled around the world to paint interesting cityscapes and landscapes. But unlike many artists who are drawn to a postcard-perfect site, Yeliseyev usually can be found around the back of a building, along the street or in an alleyway, capturing commonplace scenes," wrote BJ Foreman in her article "Everyday Poetry" in the Watercolor Artist Magazine (Feb.2016).
Vladislav Yeliseyev is a renowned watercolor and plein air artist known for his ability to capture everyday scenes with a unique perspective. Originally from Russia, he brought his Classical Art education and a Master's Degree in Architecture when he immigrated to the United States in the 1980s.
For over 30 years, Vladislav has lived and worked in the United States, amassing a dedicated following of art enthusiasts. His paintings can be found in personal and commercial collections worldwide.
His artwork is praised for its mastery of light and color, showcased through bold brushstrokes, skillful color schemes, and clear calligraphy. With a limited palette and minimal brushstrokes Vlad creates paintings that evoke a sense of the depicted objects rather than their intricate details. He often employs warm colors to achieve richness while maintaining the transparency of watercolor. Vlad's intention is not to simply depict the object itself but to capture the light, leaving room for interpretation and evoking a poetic response from the viewer.
Vladislav's artistic goal is to express as much as possible with minimal brushwork, allowing the viewer to experience the essence of the scene.
After a successful career as an architectural illustrator, in addition to his artistic pursuits Vladislav has established himself as a sought-after speaker, demonstrator, and educator in the watercolor and plein air communities. He has been invited to watercolor and plein air conventions across the United States and served as a jury member and judge for national and regional competitions. Vladislav conducts virtual workshops, plein air and studio workshops as well as hosts art holidays in Europe.
His participation in highly regarded invitational paint-outs and competitions has earned him numerous prestigious awards and accolades. To share his knowledge and technique with aspiring artists, Vladislav has released educational video master classes on DVD and streaming platforms (Vimeo, YouTube). He is an exhibiting member of many art societies nationwide and holds Signature membership in esteemed organizations such as American Impressionist Society and the National Watercolor Society.
His work has been featured in renowned publications, including Watercolor Artist magazine (2016, USA), PleinAir Magazine (2017, USA), and Art of Watercolour (2018, France).